A small review of Viaplay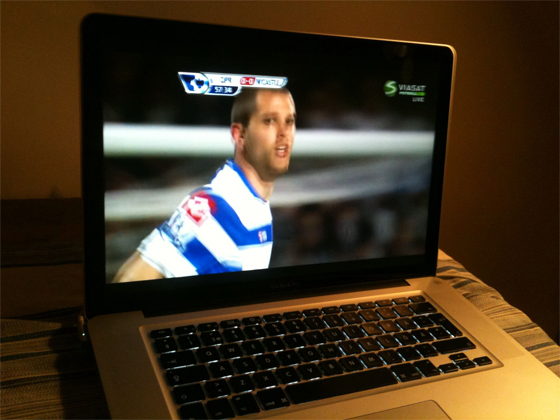 Since SVT rose to prominence with their excellent SVT Play we have seen a whole slew of network VOD-services. All of them are of varying quality, both on a technical level, and in terms of the actual content. Some of them are outright annoying. TV3 and Kanal 5, for example, forces you to sit through minutes of adverts before you are allowed to turn on full screen.
Anyway… as a football fan I was excited by the prospect of being able to follow the Barclays Premier League from the comforts of practically any device with an internet connection. And it is true. It works on the Iphone, though I doubt that is how most people like to watch football.
So lets check Viaplay out.
QUALITY: The quality is 2000kbps according to the FAQ. If the connection is too slow to handle the data the rate is progressively lowered. It is based on Silverlight which has about a 75% deployment rate. That doesn't matter so much as the fact that you have to install it on every computer you want to watch from. In the month that I have used Viaplay I've installed it on four computers. Small issue even if I would have preferred something other than Silverlight.
For sports watching I find the image quality to be tolerable. It does not look HD (whatever that means) and is not great for movies. It has a bit of the VHS-feel about it. The overall feel of the player is responsive and the stream is generally stutter free and stable.
CONTENT: The Premier League and the Champions League is the main content for me. There are TV-shows and movies but I don't see them as factors in my purchasing decision. If you like to you can watch shows like Big Bang Theory, Jersey Shore and Weeds etc.
The movie offering is very random. There is some variety there, but there was not a lot that I wanted to see that I hadn't already. Some gems though. The kids are all right, Persepolis, Adaptation, Bad Santa and The lives of others are there so if you sign up to try it for a month and haven't seen those movies you should at least check them out.
QUIRKS: For some reason you cannot save your Viaplay password in the browser. And your session times out after about 60 minutes. That doesn't matter if you are watching something. Viaplay doesn't kick you out because you have timed out. But if you've watched a match and want to switch to another one quickly it prompts you for your password, and you have to type it manually. This combined with the fact that it is not instantly obvious if you are logged in or not makes it to be a bit frustrating at times. I have already complained about it so maybe it will get fixed.
PRICING: For 199 SEK a month you get access to everything you care to watch. For 49 SEK you get TV-shows. For 99 SEK you get movies too. Because there is no such thing as a sign up fee and no minimum time you have to sign up for I think it is a very good pricing structure. 199 SEK is not a lot when you are not forced to get a "free" TV-box and sign up for something like 24 months. You will not have to pay if you dont want to during the summer months when the only leagues going are the MLS and Allsvenskan.
Overall I think Viaplay is a good way to get access to the beloved English top flight football. They try to please in other areas, and I see those as nice extras, even though I wouldn't mind hugely if they were not there.
One last thing: In the champions league archives I noticed a certain Liverpool vs AC Milan game. The fact that it was the finals from 2007 made me weep one single tear.
Also, it would be nice to be able to watch football collaboratively with friends over the Viaplay service.